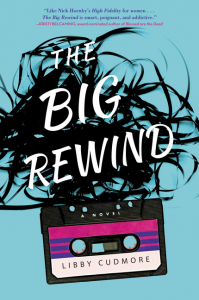 Idgie Says:
This is a sardonically written, sarcastically worded novel centered around a ridiculously hipster crowd of people, where approximately 3 of them live in the real world. When a murder of a neighbor occurs, the disaffected fight over her things while discussing where to go for coffee. Upstairs neighbor Jett actually liked the murdered girl as a person and when asked to use her marginal skills as an insurance investigator's proofreader, she decides to see what she can actually find out about possible suspects.
Meanwhile Jett continues to also live a life surrounded by pervie bosses, cute men that sadly don't appear to have any interest in her and a goal to become a journalist.
Kept me interested the entire way through.
____________________________________________
About The Big Rewind
• Paperback:
256 pages
• Publisher:
William Morrow Paperbacks (February 2, 2016)
Listening to someone else's mix tapes is a huge breach of trust. But KitKat was dead . . . and curiosity got the better of me.
When a mix tape destined for her friend KitKat accidentally arrives in Jett Bennett's mailbox, Jett doesn't think twice about it—even in the age of iTunes and Spotify, the hipster residents of the Barter Street district of Brooklyn are in a constant competition to see who can be the most retro.
But when Jett finds KitKat dead on her own kitchen floor, she suspects the tape might be more than just a quirky collection of lovelorn ballads. And when KitKat's boyfriend, Bronco, is arrested for her murder, Jett and her best friend, Sid, set out on an epic urban quest through strip joints and record stores, vegan bakeries and basement nightclubs, to discover who the real killer is. However, the further Jett digs into KitKat's past, the more she discovers about her own left-behind love life—and the mysterious man whose song she still clings to. . . .