________________________________________________________________________________________________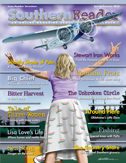 Dear Readers,
SouthernReader.com is a fantastic quarterly short story magazine that I have not only followed for years, but am very proud to have been published in! The stories are great and the illustrations are out of this world! Please take a few moments to check it out and share it with your friends.

__________________________________
Email dewonthekudzu@gmail.com for information about book reviews or short stories on the site



________________________________________________________________________________________________
Idgie Says: I am VERY pleased to be able to announce that one of my contributors of lovely stories over the years,
Scáth Beorh,
has just signed a 2-book contract with Emby Press for his Middle Grade novel October House,

about a clan of foster children from Northern Irelan

d;

and also his Dark Horror novel Blood, an epistolary novel with similarities to Bram Stoker's Dracula.

This novel has been commissioned by Emby Press and

also concerns vampirism, set in Ireland.
October House will be released this coming October (2014) and Blood will be released in October 2015.
I am so pleased for him and excited to be able to say that "I knew him when...."
I hope you enjoy this current short story from him as much as I did.
___________________________________________________
My daddy was fond of taking me fishing on Stone Lake, where we'd fish for bluegill bream and catfish. I had to be real quiet, though. I couldn't scuffle my feet in the boat. And I couldn't talk either. A whisper every now and again was alright, but it had to be about fish. And not just any fish. I liked sharks, but those were off limits while freshwater pole fishing. I told everybody I wanted to be an chondrichthyologist when I grew up. They usually just smiled and looked over at whatever parent was present, usually my mama, who would smile back and roll her eyes and shrug her shoulders and bask in the bookworminess of her weird little boy.
Daddy was a hunter, even when he was fishing. The strong, silent type (I take after my soft, chatty mother), once we had slipped out over the weedy green waters and were stalking our unseen prey, there was no horseplay nor idle chit-chat allowed. We were there to fish; to master the elements; to bring home not one or two denizens of those murky waters, but a whole string; a freezer full, which we would clean and freeze in plastic milk cartons against the unforgiving Winter months when cold showers are preferred to fishing on cold, windy lakes .
One cool October morning daddy and I went without a boat, so we 'borrowed' one from a fisherman who wasn't there. I was really worried about that, but Daddy said it was okay, as long as we brought it back in the same condition we had found it in, or better. Or better? He taught me to scull that day, and said I did real good. I felt proud.
The next weekend we took a long road-trip out to an old well which Daddy had drunk out of when he was a boy. I felt excited about that. The way he painted the good old days, I longed to go back and spend time with him when he was a boy; run through the woods with him; hop trains with him; work at the docks heading shrimp with him. Anything. I didn't care. Just as long as I could spend time with him.
When we got to the wooded area where the well was, we realized we hadn't brought anything to drink out of. But on the rim of the well sat a tall wax paper cup somebody had left. Daddy said the sulfur in the water would kill the germs, if there were any to kill. That sounded right to me. When I think of those moments in the cool "fishing weather" breeze of that morning, I can still feel the icy water burbling down my throat. I can still smell the strong scent that was a little like rotten eggs, but not too much. That day we also found some wild scuppernongs. While we sucked the meat out, we checked to see how far we could spit the skins and the seeds. Daddy won, but he was a lot taller than me. His went soaring yards away. Mine only went a few feet.
Not long after my sculling adventure on Stone Lake, I learned how to drive in our brand-new '74 Impala. Daddy took me to part of the Old Spanish Trail. Daddy was long-suffering with me as we sped along haphazardly in that 400 horse power monster across big clumps of grass and uneven red bricks which I imagined were being quickly lain down in front of us by Spanish soldiers who hoped we would be patient enough for them to finish their job. Decades later I was to read somewhere that the road was actually begun in 1915, to connect New Orleans to Florida. Sometimes it's just better to never learn the truth.
A year earlier, to the day, (it was my birthday) Daddy had taken me to an 19th-century farmhouse ruin in the backwoods of railroad and steamboat town of Pollard, Alabama. There as we moved carefully through the old boards with nails in them, I found a hand-made brick. Daddy said I could take it with me, as a souvenir. I proudly covered my birthday surprise in cellophane paper so it wouldn't wear away. For years I used this brick as a doorstop in my bedroom. The last time I ever saw it, sometimes in the mid-Eighties, the paper had been taken off it, and it lay next to the house in the back yard.
A few months after my driving escapade along the Old Spanish Trail, we went to another part of the woods near Holt, Florida and stumbled across a briary pig-trail running through a tract of land filled with long-leaf pine and oak. That day Daddy showed me the difference between water, white, red, live, scrub, and Spanish oaks; and taught me how to call like a bobwhite and a whippoorwill. We also found an old door laying over a pile of sticks and trash.
"Hey, hey! Will ya look at that! Wonder what's under that!" Daddy cried out. He was always a little boy again when we went out on adventures in the woods. We had stopped bringing my little sister Pat after the very first time. She hated the woods and stood at the head of the trail and cried until Daddy got so disgusted with her that we got back in daddy's fishing truck and drove straight home... at least 60 miles.
"Careful about snakes, daddy," I warned him as I stood frozen, waiting for him on the very safe pig-trail. I just knew he was going to get bit. I wasn't about to go out in that jungle! He kicked at the old rotten door, stomped on it a few times, and then stood up and waited.
"See. That's what you do," he said. "It'll run any ol' snake outta there, but you gotta make some noise."
"What kinda noise, Daddy?"
I was imagining the biggest rattlesnake in the world. Fangs as big as the fingers Daddy playfully jabbed at all us kids, pretending his hand was a snake head, calling his fingers 'fangers'.
"Noise like I just

made

. Weren't ya watchin' me?"
His voice was serene. Very kind.
"Now, them ol' water moccasins," he said. "They're another story altogether. They won't move when you make noise. No sir. You have to get a ol' stick or somethin' to move 'em with. A long one, though. They won't just bite you once. They'll bite you 'til your dead."
My adam's-apple was stuck in my throat, and I didn't even have a fully grown one yet. BITE YOU 'TIL YOU'RE DEAD.

BITE YOU 'TIL YOU'RE DEAD.
"Hey-hey! Look-a'here! Look what we got here!"
I was half way back to the car.
"Where you goin'?" Daddy asked me. "Come on back here! Look what we found!"
I crept gingerly back down the shady path until I got just behind my daddy. I was still expecting a snake, a dead snake, a thousand baby snakes, a snapping turtle... something dangerous.
But no. Daddy had found us a 1920's typewriter. Man, he was so proud of that thing! So while I watched out for rattlesnakes, Daddy moved all the debris and sticks and the door which had been used to cover the machine. We loaded it up in the trunk, took it home, cleaned it up with some of Daddy's brushes he had gotten from NASA when he had worked for them as an aerospace engineer.
The next day we drove into Downtown Pensacola and ran down a ribbon at an out-of-the-way typewriter shop. This was one of those places where the friendly men talk about fishing and cars and the good ol' days. I breathed in the clean, rustic scent of lubricating oil and leather. The store smelled like the barber shop and the shoe repair store in Flomaton, but nothing like my Uncle Paul's bait shop in South Flomaton where we got earthworms and crickets and blood bait.
The men working at the repair shop were nice. One of them showed me the inside workings of a typewriter. The flywheel. The gadget flip. The jam-keys. The thumb-snap. The finger-pinch. The paper-rip. And, of course, the ribbon we had come to buy. Daddy laughed good-naturedly. The men all smiled and called me a fine young man.
As I would sit pecking away on that machine into the wee hours of the morning, typing up my poetry and stories, I knew that I would make my living as a writer one day.
Not only did my daddy give me a love for people, he also gave me a burning desire for exploration which has taken me around the world, and through many a forest. I hope he is proud of the woodsman I have become; that he always hoped I would be.
Not long ago Daddy went fishing with some of his boyhood buddies. He'll be back for me one day, though. He needs me to scull the boat.
__________________________________
Email dewonthekudzu@gmail.com for information about book reviews or short stories on the site



________________________________________________________________________________________________
Not a review but a shout out for a book that quite a few of you might want to grab for the summer pool/beach time. Thought I would share with the readers. EXCERPT BELOW!
Idg
______________________________________
St. Martin's Griffin Trade Paperback
Book Description:
As teenagers in the seventies, Tully Hart and Kate Mularky were inseparable. Tully, with her make-up and her halter tops, was the coolest girl in school. Kate, with her glasses and her high water jeans, was the geeky outsider. But chance and circumstance brought them together and through the decades they were devoted to each other. This was the story of Tully and Kate which began on a quiet street called Firefly Lane. Best friends forever.

But sometimes stories end, and we have to find a way to begin again.

Now, years later, Tully is a woman trying to deal with the loss of her best friend. She wants to fulfill her promise to Kate—to be there for Kate's children, but it's a promise she has no idea how to carry out. What does brash, lonely, ambitious Tully know about being part of a family?

Kate's daughter, sixteen-year-old Marah Ryan, is as lost in her grief as Tully is...until she falls in love with a young man who makes her smile again and leads her into his dangerous, shadowy world.

Tully's mother, Dorothy Hart, is an unstable woman who abandoned her child too many times in the past and ultimately broke her heart. Now, when Tully is in danger of losing everything and is more vulnerable and alone than she's been since she put those rough childhood years behind her, Dorothy returns once more, desperate for another chance to be a good mother. But can she be trusted this time? To help her daughter, Dorothy must face her darkest fears and reveal the terrible secret in her past—only then can she become the mother her wounded daughter needs.
In Fly Away, tragedy will bring these three women together and set them on a poignant, powerful journey of redemption. Each has lost her way and they will need each other—and maybe a miracle—to transform their lives…
____________________________________________________________

Chapter One
September 2, 2010
10:14 pm
She felt a little woozy. It was nice, like being wrapped in a warm-from-the-dryer blanket. But when she came to, and saw where she was, it wasn't so nice.

She was sitting on a closed toilet seat in a restroom stall, slumped over, with tears drying on her cheeks. How long had she been here? She got slowly to her feet and left the bathroom, pushing her way through the theater's crowded lobby, ignoring the judgmental looks cast her way by the beautiful people drinking champagne beneath a glittering, nineteenth century chandelier. The movie must be over.

Outside, she kicked her ridiculous patent leather pumps into the shadows. In her expensive black nylons, she walked in the spitting rain down the dirty Seattle sidewalk toward home.

A bright pink Martini Bar sign caught her attention. A few people were clustered together outside the front door, smoking and talking beneath a protective overhang.

Even as she vowed to pass by, she found herself turning, reaching for the door, going inside. She slipped into the dark, crowded interior and headed straight for the long, mahogany bar.

"What can I get for you?" asked a thin, artsy-looking man with hair the color of a tangerine and more hardware on his face than Sears carried in the nuts and bolts aisle.

"Tequila straight shot," she said.

She drank the first shot and ordered another. The loud music comforted her. She drank another straight shot and swayed to the beat. All around her people were talking and laughing. It felt a little like she was part of all that activity.

A man in an expensive Italian suit sidled up beside her. He was tall and obviously fit, with blond hair that had been carefully cut and styled. Banker, probably, or corporate lawyer. Too young for her, of course. He couldn't be much past thirty-five. How long was he there, trolling for a date, looking for the best looking woman in the room? One drink, two?

Finally, he turned to her. She could tell by the look in his eyes that he knew who she was and that small recognition seduced her. "Can I buy you a drink?"

"I don't know. Can you?" Was she slurring her words? That wasn't good. And she couldn't think clearly.

His gaze moved from her face, down to her breasts, and then back to her face. It was a look that stripped past any pretense. "I'd say a drink at the very least."

"I don't usually pick up strangers," she lied. Lately, there were only strangers in her life. Everyone else, everyone who mattered, had forgotten about her. She could really feel that Xanax kicking in now, or was it the tequila?

He touched her chin, a jawline caress that made her shiver. The boldness of it, just touching her; no one did that anymore. "I'm Troy," he said.

She looked up into his blue eyes and felt the bone crushing weight of her loneliness. When was the last time a man had wanted her? She couldn't even remember.

"I'm Tully Hart," she said.

"I know."

He kissed her. He tasted sweet, of some kind of liquor, and of cigarettes. Or maybe pot. She wanted to lose herself in pure physical sensation, to dissolve like a bit of candy.

She wanted to forget everything that had gone wrong with her life, and how it was that she'd ended up in a place like this, alone in a sea of strangers.

"Kiss me again," she said, hating the pathetic pleading she heard in her voice. It was how she'd sounded as a child, back when she'd been a little girl with her nose pressed to the window, waiting for her mother to return. What's wrong with me? that little girl had asked anyone who would listen, but there had never been an answer. Tully reached out for him, pulling him close, but even as he kissed her and pressed his body into hers, she felt herself starting to cry, and when her tears started, there was no way to hold them back.
September 3, 2010
2:01 am
Tully was the last person to leave the bar. The doors banged shut behind her; the neon sign hissed and clicked off. It was past two now; the Seattle streets were empty. Hushed.

Traffic made the pavement hum beneath her bare feet. She made her way down the slick sidewalk, a little unsteady on her feet. A man had kissed her - a stranger - and she'd started to cry.

Pathetic. No wonder he'd backed away.

Rain pelted her, almost overwhelmed her. She thought about stopping, tilting her head back and drinking it in until she drowned.

That would be good. Drowning.

It seemed to take hours to get home. At her condominium building, she pushed past the doorman without making eye contact.

In the elevator, she saw herself in the wall of mirrors.

Oh, God.

She looked terrible. Her auburn hair - in need of coloring - was a bird's nest, mascara ran like war paint down her cheeks.

The elevator doors opened and she stepped out into the hallway. Her balance was so off it took four tries to get her key into the lock. By the time she opened the door, she was dizzy and her headache had roared back to life.

Somewhere between the dining room and the living room, she banged into a chrome side table and almost fell. Only a last minute Hail Mary grab for the sofa saved her. She sank onto the thick, down filled white cushion with a sigh. The table in front of her was piled high with mail. Bills and magazines. Junk mail.

She slumped back and closed her eyes, thinking what a mess her life had become.

"Damn you, Katie Ryan," she whispered to the best friend who wasn't there. This loneliness was unbearable. But her best friend was gone. Dead. That was what had started all of it. Losing Kate. How pitiful was that? Tully had begun to plummet at her best friend's death and she hadn't been able to pull out of the dive. "I need you." Then she screamed it: "I need you!"

Silence.

She let her head fall forward. Did she fall asleep? Maybe...

When she opened her eyes again, she stared, bleary-eyed, at the pile of mail on her coffee table. A Star magazine lay on top - a small, business card size photograph of her was in the upper right corner. Beneath her name was a single, terrible word.

Addict.

She reached forward, grabbed the magazine. It was a small story; not even a full page.

The Real Story behind the rumors.
Aging isn't easy for any woman in the public
eye, but it may be proving especially difficult for Tully Hart, the ex-star of the once phenom talk show The Girlfriend Hour. Ms. Hart's goddaughter, Marah Ryan, contacted Star exclusively. Ms. Ryan, 20, confirms that the fifty-year-old Hart has been struggling lately with demons she's had all her life. In recent months, Hart has "gained an alarmingamount of weight" and been abusing drugs and alcohol, according to Ms. Ryan--
Marah.

The betrayal hurt so badly she couldn't breathe. She read the rest of the story and then let the magazine slide to the floor.

The pain she'd been holding at bay for months, years, roared to life, sucking her into the bleakest, loneliest place she'd ever been. For the first time, she couldn't even imagine crawling out of this pit.

She staggered to her feet, her vision blurred by tears, and reached for her car keys. She couldn't live like this anymore.

Copyright @ Kristin Hannah 2013
____________________________________
KRISTIN HANNAH is the New York Times bestselling author of twenty-one novels. A former lawyer turned writer, she is the mother of one son and lives with her husband in the Pacific Northwest and Hawaii. Visit her at

www.kristinhannah.com

or on Facebook.
__________________________________
Email dewonthekudzu@gmail.com for information about book reviews or short stories on the site



________________________________________________________________________________________________
A Common Day At The Hospital
It's nearly the end of the year. Wind screams from the north, dropping the temperature rapidly. Birds glide with the currents around the treetops. Water from the bay reflects the azure sky spotted with a few puffy clouds. The natural elements blend with the major highway, clogged with traffic. A hospital sits nearby. Cars, taxis and valets swarm into the driveway and parking lot. A siren pierces the air as an ambulance arrives. Double glass doors open and close automatically as people, some of whom carry gifts and balloons, scurry into and out of the seven-story structure. A few wheelchairs are spotted. Medical outfits in various colors navigate in different directions. Urgency fills the air.
Although it's three o'clock in the afternoon and the sun is still shining, the room is shrouded in darkness. The window shades don't permit a single ray to enter. The door is cracked open, allowing a small shaft of light. Concrete silence keeps everything frozen. The sterile smell wafts through the air. A beeping sound pulses as steadily as a heartbeat. Monitors around the patient cast an eerie, blue glow.
The vital signs of Arturo Gonzalez, who appears to be in his late sixties, are vigilantly scrutinized. So is his identification card, which shows an already-deceased person. This has the medical staff and a police officer baffled.
Arturo lies in bed, in a coma due to toxic substances that built up in his blood, affecting his brain function.
The machines are his only companions, casting some light on his yellowish, sunken face. Straw-like gray hair is scattered across the top of his head.
The dark shadows under his crepe-like eyelids are surrounded by prominent cheekbones while his skin seems to liquefy over his facial foundation. His porous nose allows two rubber tubes to penetrate it, administering the vital oxygen that keeps him alive.
Both of his jaundiced, bruised arms lie next to his body. A large IV line protrudes from a vein in each one, blending with another that is attached to a bag full of plasma hanging on a stand near his bed. A wide rubber band wraps around his left bicep and occasionally fills with air, squeezing slowly and gradually letting go. The monitor doesn't wait to display his blood pressure reading. On his right arm's index finger is a sensor with adhesive tape which leads to a thin, orange cable that blends with five others emerging from various parts of his skeletal chest. In contrast, his belly, enlarged with body fluids coming from leaks on the surfaces of his liver and intestine, looks gigantic. The skin is stretched to its limit, becoming more transparent. Blue veins and red dots are drawn on its surface, as Arturo's blood pressure increases and blood accumulates in the principal veins. His blood must find new ways back to the heart, filling up the tiniest vein. A
small catheter hangs from his belly. It is used to perform paracentesis, a procedure that connects it to a system which slowly drains the accumulated fluids into bottles.

His legs, covered by a light blanket, are also swollen with fluid.
Gonzalez is homeless and was found lying in the street, gravely ill due to his liver, which was diagnosed with a very advanced case of cirrhosis. An illness provoked by overindulgence in alcohol, which injures and kills the cells in that organ. As testimony to the diagnosis, a half-liter of whiskey was still near him. Every time the organ's cells reproduce, scar tissue replaces normal liver tissue.
The scar tissue damages the vital organ's normal structure, which upsets the normal flow of blood through it. Also, less protein than normal is produced, leading to water buildup. With the filter blocked, his whole system is clogged.
An ambulance took him to the hospital, thanks to a good Samaritan who called authorities. His doctors, after performing several tests, aren't even considering a transplant because of its complications with other organs. They have exhausted all other options. They are worried; their hands are tied. In other words, he's terminal…and alone.
Time stands still, waiting to move forward again. But there's no sign to continue. Silence still seizes it. His respiration is heard as a quiet reprimand to a loud noise. Softly…softly…it stops.
In the middle of this emptiness, slowly a bright light appears in front of his bed, piercing through his eyelids and provoking a sense of discomfort in his eyes, enough to wake him. He tries to open them but the brightness doesn't allow it. Through his eyelashes, he can observe a figure standing near his bed, watching him. A great fear possesses him but instantly he hears a smooth voice saying, "Don't be afraid."
The light diminishes slightly, allowing him to fully open his eyes to see who's standing at the foot of his bed. Shocked by what he sees, he trembles from head to toes. He exclaims: "My God!"
Again the light brightens, blinding him. He hears the voice again. "Are you tired?"
"Yes, sir, very tired," he responds.
"Come with me, I want to show you something," the voice says.
He sees a hand in front of his face, and with real effort he stretches his body, reaching out to grasp the hand. When he comes into contact with skin, he gets a strong grip, and something very strange happens. The whole room lights up, and he moves easily to sit at the edge of the bed. The pain has vanished. But the machines in the room start to sound louder. As the hand pulls him from the bed, he finds himself with both feet on the floor, slowly standing up. Tentatively he puts one foot in front of the other.
With every step he takes away from the bed, the monitors' sounds sharpen and increase their speed. Although he has his eyes open and everything in the room is lit, he can't see his companion. He can only feel the hand guiding him. When he walks through the door out of the room, the sensors and monitors are already out of control. They immediately fuse into just one drawn-out "beeeeeeeeeep."
Now he's in the hallway. Several medical assistants and nurses are racing down the hallway, passing by him. They look alarmed. He jumps to the side to avoid being trampled. "Whew," he exhales.
He watches where they are running to. He sees a police officer standing at the nurses' station. He asks: "What is happening? A fire?" But there's no answer, although the officer moves his head to the left and right with curiosity on his face.
Still pulled by his companion, Arturo continues to shuffle down the hall. He has no time to watch the medical staff enter his room. He slowly disappears around the next corner.
The End
__________________________________
Email dewonthekudzu@gmail.com for information about book reviews or short stories on the site



________________________________________________________________________________________________
This is NOT a review. Simply sharing a book that might be of interest to readers.
Jaspar's War
Cym Lowell
Paperback: 352 pages
Publisher: Rosemary Beach Press LLC (March 1, 2014)
Language: English
Book Description:
Greenwich, Connecticut socialite Jaspar Moran has it all-a magnificent estate, two beautiful children and a loving husband, Trevor, serving as the Secretary of the Treasury. Protected, admired and living in the lap of luxury, Jaspar is reeling from the news that his government jet has crashed just as her children vanish without a trace. An ominous message warns her to keep silent about her husband's role in the President's economic plan. Or else. Determined to save her children, she'll go to hell and back, form alliances with assassins, traitors and Mafioso, and commit unspeakable acts-if that's what it takes. With alarms sounding around the world, hunted from all sides, and unsure of who to trust, she finds herself depending on a mysterious figure without an identity. Jaspar journeys from the Australian outback to the palazzos of Rome, the Monte Carlo Grand Prix, and to the magnificence of the Vatican, in her quest. Can she rescue her children before the plot to crash the global economy is unleashed?
Q & A PLUS an Excerpt below!
_______________________________________________
Q&A with Cym Lowell
author of JASPAR'S WAR
1.
What made you decide to make the jump from international tax law to writing?
Love of emotion and exploring it in the context of characters enmeshed in crises where they must become warriors or perish.
2.
You're very open about your struggles that caused you to drop out of high school. What advice would you give your teenage self today?
Be realistic about your dreams, where you are, where you hope be, and then take one step at a time with patience and persistence. The Power of One is within you. Open your heart!
3.
How did your life change when you joined the Navy at age 18?
I learned that my future depended on me.
4.
You have spoken to groups of middle and high-school age students in New York City recently. Some of whom are homeless, or have been abused. What did you say to them, and how did you try and empower them to reach their full potential?
I asked them to think about their dreams, using myself as an example of the opportunity that each of us has to pull out of the trench in life where we have gotten, and walk into the sunshine, one step at a time.
5.
How can we lift those barriers that prevent students from succeeding when life for some seems so daunting and complex?
By offering respect, encouragement, and example.
6.
Would having had a mentor such as yourself back when you were struggling changed your life?
I did have such mentors, in loving parents and caring teachers. I was not at a place where I could listen until I found myself in my own trench, dug with my own hands.
7.
For your initiative,

OPERATION: NEXT CHAPTER

, you teamed up with Soldier's Angels to provide voice controlled laptops for injured veterans healing from amputations, paralysis, eye injuries, burns and brain trauma. What made you choose to support this organization?
The mission of Soldiers' Angels is spot on in my heart. It is an organization focused on service with the minimal organizational structure, so funding goes to needy war heroes. Our church in Rosemary (Chapel at the Beach) does the same (60 percent of all donations going to missions). It is such a blessing to be able to give back!
8.
How did you come up with the idea for the story?
I had written an earlier story involving

two characters I thought had some potential. I began the story in 2008 as the financial collapse occurred, so I dropped them into the reality of where I thought stimulus monies were going (to those who caused the crash to start with). The character of Jaspar simply emerged via her own voice.
9.
Your lead in

JASPAR'S WAR

, Jaspar Moran, is a strong woman going into unimaginable horror and determined to save her family. Did you base her personality or any of your other characters, or on anyone in real-life?
Jaspar emerged as noted above. Her heart, focus, and determination are based on what I have learned from the love of my life.
10.
You also have two other very strong characters in the book; one a Native American Cherokee Indian; the other an incredibly original character named Nul, an Australian aborigine who is a warrior himself. Where did these characters evolve from?
As noted, they came from an earlier story that I am currently revising titled, Harvest of Gold (background coming from the never-found Jewish Gold from the Holocaust). Chief Bearstrike is a caricature of personalities I have known over the years, with the imagination of Warren Buffet. Nulandi is drawn from images of people I served with in Vietnam. In him, I am fascinated with how humanity can emerge from a child taken literally from the womb and made into a killing machine.
11.
What is your writing process like? Do you have any tricks or odd writing quirks that help keep you focused?
I simply get immersed in the story and characters. They are like friends. Frankly, I started writing at a point in my life where it probably saved me from realities that it took me many years to understand. In my first book, Riddle of Berlin, which we will begin working on shortly, the protagonist jumps from a point at Notre Dame into the Seine River in Paris hoping to find himself in the flow of the river. I stood at that point imagining what it would be like so often that I began the story there. What would happen to me? In that story, Carmen, a Gypsy nurse, rescues John Jaegerman and rebuilds him to a point where he can address a crisis in the world only he could conquer. That manuscript was published in response to my sweetheart's encouragement – she saved me as Carmen did John. In other words, I wrote the story years before I met her not knowing that I was writing my own prescription for redemption. Sorry to be so personal, but it is the answer to your question.
Today, I simply love the process. Advice is simple: as in # 2 above, take a step at a time with patience and persistence.
12.
What books and ideas do you have in the works that we can expect to see from you in the future?
The two noted above, as well as a sequel to Riddle of Berlin (30,000 Camels) and then a sequel to Jaspar's War.
13.
What advice would you give to someone interested in trying to write his or her first novel?
Just start. Then proceed a step at a time with patience and persistence.
____________________________________________
"
POCK!
" The distinctive sound of a plastic bat driving a Wiffle ball into the outfield triggered shrieks from children as they ran and played. My ten-year-old daughter Chrissy dropped the bat and raced toward first base, actually a luminous orange Frisbee.
"Run, Chrissy," I shouted as she rounded first, heading toward second. Auburn ponytails, woven with my fingers, flew in her wake. Theo, my twelve-year-old son, played shortstop. Chrissy watched his face.
"Go!" he telegraphed. I clasped my hands, hoping that she would not slide face first into base. Scratches and cuts were no deterrent when she was so focused.
It was Easter weekend, a time for relaxation and family in Greenwich, Connecticut. Neighbors, friends, and local dignitaries filled our park-like estate. We had room for a ball field where neighborhood kids could congregate. Private security personnel were out of sight.
It was an annual celebration of faith. Parents and grandparents sat all around, absorbing the beautiful sunshine and mild weather. They brought coolers of drinks, soda pop for the kids, beer and wine for the adults. It was my version of a neighborhood tailgate party. My dream of family and community had come true.
"Throw the ball," the other team yelled as the outfielder cocked his arm.
"Down, Chrissy!" Theo yelled.
Their father had taught her to ignore the ball and watch the coach.
"Your agility will always give you an edge," he said.
Small thin legs churned as the ball was launched. I cringed watching her dive. Dust flew from the infield side of the base. The second baseman caught it just as the little fingers touched safety, and the catcher's hand smacked her hip.
"Safe!" the father serving as umpire shouted, crossing outstretched arms in exclamation.
I jumped for joy. Theo stood back, pride on his face. Chrissy brushed grass and dirt from her bottom, beaming at her brother. She gave me a thumbs up. No blood. I was relieved. Taunts from the other boys about coddling his sister only amused her proud big brother.
Neighborhood kids enjoyed the afternoon Wiffle ball game on the lawn between our pool and tennis courts. I organized the games just as I had played them as a child. My dad called it "scrub." As a player made an out, she would go to right field and the catcher moved up to bat in the prescribed rotation.
"Jaspar, when will Trevor get home?" my best friend Crystal Jamison asked about my husband. I took my seat, still reveling in the joy of observing my children care for each other. She sipped a glass of Sancerre, basking in the sun and relaxing in a rocking chair brought from the pool.
"Trevor is so good at teaching passing techniques," she said watching her own son. "Joshua will be a senior this year, so he needs to make a strong showing for college scouts. Trevor is his hero."
I remembered Trevor dropping back to pass on the sacred turf of Notre Dame Stadium in South Bend, then stepping forward to deliver his trademark bullet to a receiver streaking across the goal line to seal a national championship
.
The memory was so strong. I longed for him to be back at my side. Before departing, he told me of his fear that his fabled career on Wall Street had been a fraud. Our conversation had to be completed.
"
POCK!
" brought my attention back to the kids on the grass. They all raced to field the ball. Chrissy was on her way around third as the batter ran to first, the wobbly ball flying just over the head of Theo. He ran after it, looking over his shoulder at Chrissy racing toward the plate. Reaching the ball, he turned and launched a strike to the catcher, doing his best to nail her.
"Run Chrissy," I yelled rising again. She jumped on home base in triumph as the floating ball was caught too late.
"Batter up," Theo yelled as I returned to my seat.
"Trevor's on his way home from London," I answered my friend's question.
Crystal and I first met when we came to New York after college. Her husband Raymond played football with Trevor at Notre Dame. They were quite a team. A fleet, sure-handed receiver, Raymond caught the passes that Trevor threw. Trevor's career ended in a national championship game. Raymond came to New
York drafted by the Jets. Trevor took an entry position on Wall Street. I dated Raymond early in college before I met Trevor or he began dating Crystal. She and I were kids just off campus coming to the big city. Neither of us had any real preparation for the strange new world. We found jobs in finance, me at the Federal Reserve on Wall Street and Crystal in a research office of a secretive private equity firm owned by an Indian tribe. Similarity of situation and background facilitated fast friendship. Her drawl from rural Georgia complimented my odd mixture of Australian Outback and Northern Indiana twang. As our husbands succeeded, we searched for a place where we could live in relative obscurity. Greenwich was perfect. Our children grew up together, like the extended family of my dreams.
"He's gone so much now," Crystal responded. "You seemed excited when he went down there. Almost as if he were answering a call to duty."
"He's been seeking European agreement for the president's stimulus plan."
Trevor took to Wall Street. He began as a runner for energy traders and became fascinated with learning to anticipate market movements. His skill expanded in a master's program at Columbia, propelling him to a position where he implemented a strategy to take advantage of an inconsistency in risk pricing. Successful exploitation brought us success.
Trevor's firm, Westbury Madison & Co., became
the
pre-eminent Wall Street investment bank, profiting whether the economy flourished or crashed due to what Trevor believed was his own strategy. When the financial world crashed, President Hamilton Henrichs asked him to lead the effort to resurrect the economy of America and the world as secretary of the Treasury, a position once held by Alexander Hamilton. The financial press criticized the appointment. "Wolf Hired to Rebuild Hen House?" asked
headlines in the financial and popular press.
"I am proud of him," I answered, anxiously twisting the everpresent bangles at my left wrist. They were gifts I've treasured from my Indian friends. "He works hard and travels constantly trying to plug holes in the economic dam of the world."
Inside, far different feelings had germinated. Something was wrong.
What happened to you, Trevor?
He was distant, ignoring me in ways that I had never experienced. He seemed to avoid me.
Is
he having an affair?
I wondered, fearing that a slowly ebbing sex life could be a marker of something more than job stress.
Have I
become less desirable or is there something troubling in his new life in
Washington that he cannot find words to tell me?
"You seem distant, honey" I finally said as he was leaving days earlier. "Have I done something?"
"I know," he answered, with an unusual tone of resignation in his voice. "It's not you, sweetheart. Please don't think that. I'm sorry. I've discovered treachery that you may be able to understand better than me. I need your help," he blurted out, taking me in his arms with a grip that felt desperate.
"Is it something at Treasury?" I asked, relieved that his distance was due to business. But his distance troubled me. It was so unlike anything I had experienced in our life together.
"Yes, it's there and also in the White House. It's unbelievable," he answered in a voice that trembled as his hands shook. "I've been used by people I trusted. It began at the firm."
"Yes. I've tried to piece the story together. We can discuss what to do when I return."
My relief soon gave way to fear. Trevor was afraid; I had never seen that in him. Was my intrepid hero cracking?
"Hey Mom, come pitch," Theo yelled as one player jumped into the pool. The scrub game was more fun with full teams in the field and at bat. The kids liked me to pitch because I threw softly. "Like a girl," Theo would say, happy that he could always whack my pitch. His friends tried to throw curves or fastballs with the plastic sphere with holes on one side. I learned from my dad how to pitch so the ball hung right in Theo's sweet spot. Of course, I did the same for all the kids; unfortunately I usually struck out as batter. My father was a missionary. After my mother died when I was just three he raised me. For many years we lived in the Australian Outback. When it was time for college, we moved to South Bend,
Indiana. I was the first member of my family to go to Notre Dame on a scholarship. Dad was proud. He lived long enough to express his pride. His greatest joy, he often said with breaking voice, was that I had grown as a woman of faith: "Your mother's heart would burst with thankfulness."
"Gotta go," I responded to Crystal, touching her shoulder and grabbing my mitt. Theo was the next batter. I picked up the ball as I marked my territory around the luminous strip of plastic that served as the pitcher's mound. Theo looked like pictures of my dad at the same age.
My son stepped to the plate, pointing the bat at me. "Gotcha, Mom!" he declared for the entire neighborhood to hear. I had to play the role. Glove on my knee, I leaned forward with the ball behind my back as if I were looking for a signal. I glanced at runners on base, then the batter.
"Strike the turkey out!" Crystal yelled.
"Yeah, yeah!" our friends echoed.
"Strike one!" the umpire shouted as Theo's bat slapped the back of his shoulder, so intense was the swing.
"Mom?" his lips mimed, looking at me.
The words roused cheers from parents ringing the field. Beer and wine had flowed long enough to produce a boisterous mood. Adults always lost in these games, so the prospect of me striking out the best of the kids triggered excitement.
I gripped the Wiffle ball, knowing where to place my fingers for an underhand throw. It could be a screwball, twisting into the right-handed batter, as I had done on the first strike then reversed for the second. Or, I could push the ball with my knuckles, and it would drop as he was getting ready to swing. Theo's focus was like his father's. He looked straight into my eyes, curious. I was jolted back to the moment. In throwing strikes, I had allowed my anxiety to overcome Theo's needs.
"POCK!" The sound rewarded me as the ball sailed over the head of the left fielder. Theo winked as he ran to first. It would be a home run. I had thrown his pitch. Maternal pride filled my soul.
"Yeah, Theo!" Chrissy yelled in a squeaky voice. He also leapt on home plate in triumphant exclamation, ending the game. My boy led them all to the pool with Chrissy at his side.
After the game, Crystal and I organized the food brought by our friends and neighbors. Fathers and older boys unloaded tables from a rental company trailer in our driveway, arranging them in a horseshoe around the pool so we could eat and talk.
"Have you seen the kids?" I asked her when Theo and Chrissy seemed to have been absent for a long time.
"Oh, come on, calm down," Crystal responded. "What could happen here?"
We joined our neighbors at a tent erected on the ball field. One of our traditions was to have entertainment as the late afternoon set, so the children would not be so impatient for darkness and the fireworks. I had arranged with the local Mohegan tribe to have a troupe perform traditional dance routines of celebration. Crystal and I worked for many years with the tribe. Our project was developing job opportunities, which had evolved into a business of creating replicas of art, apparel, and pottery from their rich cultural heritage. Our work was gratifying and successful. Members of the troupe mingled in the crowd entertaining the kids. On stage, each child was outfitted with handmade costumes complete with colorful feathers and leather trim. Tribal artists applied face and body paints to duplicate markings from the proud history of the Mohegan people. We were all lost in the magic. It became difficult to separate child from tribal dancer.
"This is amazing?" Raymond declared, enjoying the collage of color and laughter. His career with the Jets ended suddenly when a vicious cross block broke his ribs and punctured his heart muscle. He became a youth counselor in the Greenwich school system, close to home and family.
I searched the faces of dancers and children trying to find Theo and Chrissy, ignoring the conversation surrounding me. I had not seen either since the game ended. Always in the midst of the children, they should be playing and laughing. I tried not to panic, but was failing. When the exhibition was at an end, darkness began to envelop the scene. "Crystal, they're not here!"
"Raymond, get the officers," she directed, taking my arm.
"No child has left the grounds," the head of security detail assured me, deploying his team to search. As the fireworks display began, the Greenwich police, as well as the Connecticut State Police began checking cars, trucks, and the equipment of the Mohegan troupe. No one was allowed to leave. Backup security teams arrived as the dark sky was illuminated by a kaleidoscope of color.
I barely heard the increasingly anxious discussions of friends and security people. Chrissy did not like chaos and always curled up in my lap at such times. "Where are you, sweetheart?" I asked pacing back and forth.
Neighbors were herded onto the driveway as officers checked each person. Police cars with emergency lights blocked the entrance to our property. Flashlights illuminated fence lines as the search broadened.
"Who delivered the tables?" the senior security officer asked, trying to confirm all who had come and gone.
"I, I, I don't know," I stammered, my mind not able to focus on even a simple question.
"Where
are
they officer? They can't be hiding this long. They wouldn't run off. Who would take them?" I asked.
"Ma'am, we're trying to . . ."
"Mrs. Moran?" a man in a suit asked politely, interrupting the security officer's response. In the midst of the chaos, a dark sedan had been allowed to enter the driveway.
I was drifting into shock.
"Mrs. Moran, I need to speak to you," the man repeated gently taking my arm.
"Who are you?" the security officer asked.
"I am Peter McGuire with the FBI," he said, holding out identification.
"What's going on here?" he asked, looking at dozens of flashlights sweeping grounds and trees. Neighbors stood by the garages. The Indian troupe clustered by their vehicles.
"My children have disappeared," I blurted out.
Crystal had called my priest, Father Michael O'Rourke. He was the priest in the rural Australia diocese of my childhood and my dad's best friend. When I got to Notre Dame, Father Michael was there as a youth pastor. "I am your guardian angel," he often declared. The image was an essential element of my faith. He had been present throughout my life. He came at the first hint of trouble or joy. Father Michael explained the situation as the security leader departed to check how the search was going.
Something passed over the FBI agent's face. "Mrs. Moran, is there someplace we could speak in private?"
"Let's go in the house," Crystal suggested as she and Raymond led us inside.
We stepped in the front door. The FBI officer motioned for Crystal and Raymond to sit on either side of me on a sofa.
"May I get you anything, Mrs. Moran," he asked.
He knelt and took my hand. "Mrs. Moran, we regret to inform you that Secretary Moran's plane en route from London has apparently crashed into the ocean near Iceland. Search planes are on their way. It will take several hours. The conditions are horrendous in the remote area where the plane disappeared."
I barely heard the words. The rest of the evening was a blur. Friends took turns staying with me throughout the night. Father Michael was at my side when I awoke to the distinctive cathedral chime of my phone.
"Theo or Chrissy at last!" I said grabbing for a ray of hope.
"They must have gone to a friend's house."
The chime continued. My mind cleared enough to sit up, hold
Father's hand, and look at the phone.
"It's Trevor!" I blurted. His name was on the caller ID. My mind jumped to the conclusion that he was safe after all. "Thank God!"
"Honey, where are you?" I asked.
He'll take care of this
.
Long moments elapsed in silence as I pressed the phone to one ear then the other. "Trevor? Honey?"
"A text message will arrive momentarily," a mechanical voice enunciated slowly. It sounded as if the words were spoken from underwater. The connection terminated, leaving only a cold dial tone.
"Jaspar, what is it?" Father asked, standing next to Crystal and Raymond. I looked up at each of them. Their eyes narrowed with questions. Anxiety blew through me like a chill Arctic wind.
"I . . . I don't know. The caller ID said 'Trevor Moran.' Then there was this scary voice." I startled when the chime for a text message sounded. My eyes riveted on the words:
Your children are gone because you asked about something not your business.
Your husband started to answer and is being digested by sharks.
If what he believed becomes public, your children will also become ocean shit.
Your silence is their only path to life.
____________________________________________________
Excerpted from the book JASPAR'S WAR by Cym Lowell. Copyright © 2014 by Cym Lowell. Reprinted with permission of Rosemary Beach Press. All rights reserved.
__________________________________
Email dewonthekudzu@gmail.com for information about book reviews or short stories on the site