Jude Deveraux books are like crack. This summer I went on a binge and now need r

ehab. I seriously could not put her books down once I started reading them again.
I decided to take

a

Summer

sabbatical

in between the Spring Review Books and the Fall ones and re-engage with a writer that I used to read voraciously. When I saw she has around 5

5

books published, combined with the summer and the fact that I can read a romance book in a day

,

I decided to create a challenge for myself. A challenge that wasn't that hard at all. I was going to

re-read ALL of her books before fall. (Thank heavens for used books stores is all I can say!)
My little post of what got me started on this Summer Adventure is below. Note - I only read 45 of her novels, I decided to leave the paranormal ones be and for some reason had no real desire to read t

he ones set in the 1500's and before.
__________________________________________
When I was a young pup I adored romance novels. Read them by the handful. Then life got in the way and I felt they were way too sappy for the reality of living. This was a good thing for me as it opened up my reading to a whole new level and now I read just about anything.
As a reviewer I get to pick and choose what I read. I traditionally turn down graphic violence, stalker books, fantasy........and romance. I just wasn't into it anymore and it is somewhat hard to review a romance book at times - they all have happy endings with solved problems.
But then I was offered a chance to review a Jude Deveraux book. At the time I didn't realize she was still writing. She was my all time, go to favorite romance author. Her characters were usually humorous, spunky and sassy without too much angst and gnashing of teeth. Great escapism that you could somewhat chuckle through.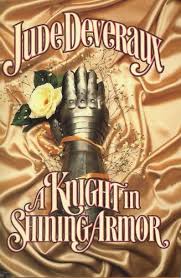 So I said yes I would do the review. Wow. I forgot how much I enjoyed her.

Then I was offered another new Jude book to review

. Suddenly I had a full blown desire to read Jude again. Luckily most of her books are at used book stores so they're easy to pick up and won't cost a fortune as she

is prolific

.
Then I had another idea - why don't I at least give a thumbs up or thumbs down to each book since I'm tearing through them all. So that's what I'll do here. It will be a simple list of titles and what I thought of them.
Maybe it will encourage you to pick up some of her novels if you haven't already. Truly she is a master of the romance. The covers are generally awful, but just open to the

story

and you'll be fine.
I found that most of the time I liked the men best - they are

generally

always nearly perfect, warm and

understanding

in every way but the women almost always need

ed

attitude adjustments. I didn't actually understand how some of them could even interest these perfect men. A fun perk is that many of her story lines run long. A book set in the 1700's will have those characters show up as ancestors 12 books and 200 years later. It's fun to work your brain and try to keep up with the tiny details and "

Ah-ha!" moments.
I used to read only her historical novels and stopped reading when she started contemporary, but I just read the entire Edilean series and found that I liked it almost more now than the hi

storicals.
Click HERE for a fun link I found describin

g all of her books in order of publication.
___________________________________________________
Now, my cliff notes thoughts on her books. Books that I liked the best are in

red

. The ones in

green

, I actually read twice!
The Scent of Jasmine - One of my Favorites, a lot of fun banter

High Tide - Meh

Change of Heart - Loved the first half, lost interest in 2nd half (really 2 stories)

Sweet Lair - Will that girl calm down already, one of her more angsty characters, hard to figure out why the guy liked her.

Eternity - very cute and fun

Just Curious - a fun short story. Enjoyable.

A Knight in Shining Armor - one of her most popular, but damn, doesn't that girl ever stop crying?

A Season in the Highlands - Short story anthology, I loved hers - straight fun.

Someone to Love - Quite good.

Holly - One of her sexier ones, sex everywhere, anytime, from beginning of the book, fun read.

Temptation - Set it Scotland, nuff said. I quite enjoyed it.

The Duchess - another good one, though the girl was ridiculously young and naive to attract a worldly man.

The Awakening - ridiculous. She went from insanely timid and mousy to a tiger. Too much of an attitude change too quick

Twin of Fire - Very much enjoyed. Lot of spunkiness

Twin of Ice - Also enjoyed very much, perhaps more than Twin of Fire.

Ever After - A good read, lot of tension with enough humor to offset it.

The Girl from Summer Hill - A fun read that bogged down during the overly long Play re-enactment.

The Invitation - 3 short stories. I loved all the men, 2 of the la

dies made me want to smack them. **Read after Sweet Lair**

Secrets - This is one of those fun books with interesting

escapades and dialogue.

The Raider -

A

really fun read except for the part that made jokes about rape and then concluded with incredibly weak sex.

Rest of book very fun.

The Temptress -

I

t was okay. Not one o

f my faves, but I did really like the end.

River Lady -

H

arsh beginning and unbelievable that someone would mess around with such a dirty and smelly woman. He just wa

sn't drunk enough. The rest of the book amused though.

Wild Orchids - Really different for her. Not really any sex scenes, the Devil is a character and the

Hero

is a successful author with a

d

ad

b

od. I

t was quite fun though.

The Blessing -

Ridiculously silly plot

but still amusing in spots.
Legend - quite fun, a blond and a dark hunky men - pick your favori

te.

Stranger in the Moonlight - Not as crazy plot heavy as others, some really fun moments of dial

ogue.

Sca

rlet

N

ights - Saucy book with actual criminals. Hero has

receding hairline and damaged trachea. I love it when her men aren't perfect.

Wishes - an okay book. Had Houston and Kane from Twin of Ice in it, so that was fun. Showed that a heavier woman could still be found very attractive

so handsome men.

Heartwishes -

a cute story, enjoyable

Lavender

Morning - one of the rare, no sex scenes at all stories. Revolved around 2 romances. One fun to read, the other with a very sad ending. I don't like sad endings in romance

novels.

Moonlight in the Morning - One of my favorites. The male character is truly too perfect to be true and oh so

romantic.

Promises

- A novella set in the Edilean series. Quite fun, but be warned, priced for some reason as a full length novel and called a Vook. I received no video but a story under 100 pages. **Read after The Scent of Jasmine

**

Moonlight Masquerade

- I have become quite attached to the people from this town and I enjoyed the main storyline, along with all of the side stories involving people I already "k

new".

The Teacher - from Upon a Midnight Clear Anthology - This

n

ovella made me very happy. The

novel, Legend, totally left

the fate of one of the main characters up in the air. A character who was quite wonderful so I was pleased when this story showed up to finish that tale. **Read after L

egend**

Lost Lady - Fun, Quick read. Final quarter of the book slightly

ridiculous

but still...the romance. :)
Carolina Isle - I am going to say this was to finish a contract. Cardboard characters, weak plot, sloppy lame ending. I was kind of embarrassed for t

he book reading it.

Sweetb

riar -

The hero in this novel was like Dirk Pitt, near death through hal

f the book but still horny. Kind of ridiculous.

Mountain Laurel - the hero was super hot and wonderful, but the

woman made me kind of want to beat her every time she started talking about how wonderful her voice was.

Mulberry Tree - Nice sweet love story with a

devious murder plot behind it.

Days of Gold - This tells the story of how the town of Edilean (for the entire series) started and was interesting for that part alone - making me want to go back and re-read the history bits in the other novels (I mistakenly

read this one last). The story itself is okay.

True Love - The next 3 books were fun, they brought the Montgomerys and Taggerts back and added the Kingsleys....and ghosts. All three were fun.

For All Time - This one has

2 Princes!

Ever

After

- This one has a lot of Naked Cousins
First Impressions - Interesting in that the main characters are in their mid to late 40's. Nice to see that for a change. People already settled into their ideals and attitudes

trying to figure out love.

The Summerhouse - 2 of the stories grabbed me - Thomas made me very sad in one and in the other there is a scene of a man and a horse that is seriously hot.
Just a few of Jude's Books!