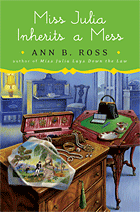 NEW APRIL 5, 2016!!

— MISS JULIA INHERITS A MESS
Viking Hardcover
When a certain member of Abbotsville's elite group of ladies succumbs to a broken hip and old age, no one is more surprised than Miss Julia to learn from a Delmont lawyer that the will names her as executor of the estate. Not only does Julia not want to do it, she quickly realizes that she can't do it—the estate is practically non-existent. And on top of that, the will lists a large number of beneficiaries which includes the Book Club ladies, the bagboy at the grocery store, and the First Presbyterian Church of Abbotsville. Where will the money come from?
But all is not lost because the accumulation of furniture in the deceased's apartment includes several auction-worthy antiques. Working with an accredited appraiser, Julia gradually begins to put together an estate that will enable her to distribute at least a pittance to each beneficiary—though not enough, it seems, to replace the broken air-conditioner in the church.
Then a possible heir shows up—a nephew who may or may not be who he claims to be. He says he wants nothing but family pictures, keepsakes, and letters. Julia would gladly turn the whole mess over to him until an 18
th
-century cellarette is stolen from the apartment. She has her suspicions as to the identity of the thief and what he really wants, and those suspicions are confirmed when she finds among the keepsakes a piece of needlework that is more valuable than all the furniture put together.
______________________________________________________________________
In Paperbacpril 2016
TOUR SCHEDULE
______________________________________________________________________________
Tuesday,
April 5:
The Fountainhead Bookstore, 408 N. Main Street, Hendersonville, NC Launch Event: 5:00 pm (828-697-1870)
Wednesday,
April 6:
Barnes & Noble, 1925 Hampton Inn Court, Winston-Salem, NC, Speaking & Signing: 7:00 pm (336-774-0800).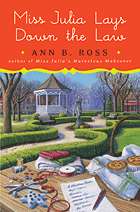 Thursday
,
April 7
: McIntyre's Books, 220 Market Street, Pittsboro, NC, Speaking & Signing, 6:30 pm. (919-545-5727)
Friday, April 8
: Quail Ridge Books, 3522 Wade Avenue, Raleigh, NC, Speaking, Signing, & Coffee: 10:00 A.M. (919-828-7912).
Saturday, April 9
: The Country Bookshop, 140 NW Broad St., Southern Pines, NC, Speaking & Signing; 12:00 Noon, (910-692-3211)
Sunday, April 10:
Malaprop's Bookstore, 55 Haywood St., Asheville, NC, Speaking & Signing, 3:00 pm (828-254-6734).
Tuesday, April 12
: Fiction Addiction, 1175 Woods Crossing Rd. #5, Greenville, SC, Speaking & Signing, 2:00 pm (864-675-0540).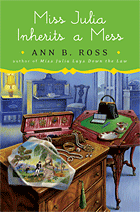 Saturday, April 16
: City Lights Bookstore/Jackson Co. Public Library, 310 Keener St., Sylva, NC, Speaking & Signing, 3:00 pm (828-586-9499).
Thursday, April 28
: The Blue Ridge Literacy Council presents A Starry Night, a ticketed cocktail party and dinner shared with some regional 'stars,' Camp Pinnacle, 1 Wolfe Lane, Hendersonville, NC. Cocktails at 5:30, Dinner at 7:00, Black Tie Optional (Tickets available March 7th at www.litcouncil.org).
Saturday, November 5
: Kentucky Book Fair, Frankfort Convention Center, Frankfort, KY. 9:00 AM - 4:00 PM.