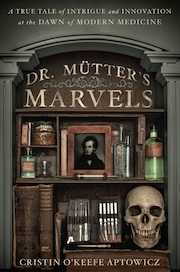 Dr. Mütter's Marvels
(Avery Books;

Sept. 8

; Paperback), by Cristin O'Keefe Aptowicz,
was included in seven "Best of 2014" lists including
NPR's Science

Friday
,
The Guardian
,
and
Library Journal
.
Dr.
Mütter was a revolutionary doctor and one of the country's first proponents of patient care, anesthesia, and sterilization. As a medical innovator, Mütter believed in empathy, avoiding pain, and sterile procedures for his patients despite the resistance of his peers. He also became famous for helping the physically deformed and obtained a massive collection of medical abnormalities which is now on display at the Mütter Museum.
Although this is a true story, it reads like fiction with details of surgeries, his extravagant style and life at the turn of the century.
Cristin O'Keefe Aptowicz is a New York Times bestselling nonfiction writer and poet. She has written six books of poetry (including

Dear Future Boyfriend

,

Hot Teen Slut

,

Working Class Represent

,

Oh, Terrible Youth

and

Everything is Everything

) as well as the nonfiction books, the

>Dr. Mutter's Marvels: A True Tale of Intrigue and Innovation at the Dawn of Modern Medicine

, which made 7 National "Best Books of 2014
″
lists (including Amazon, The Onion's AV Club, NPR's Science Fridays and the UK newspaper The Guardian, among others) and

Words In Your Face: A Guided Tour Through Twenty Years of the New York City Poetry Slam

. Cristin's most recent awards include the ArtsEdge Writer-In-Residency at the University of Pennsylvania (2010-2011), a National Endowment for the Arts Fellowship in Poetry (2011) and the Amy Clampitt Residency (2013).
Her second book of nonfiction, Dr. Mutter's Marvels: A True Tale of Intrigue and Innovation at the Dawn of Modern Medicine, was released by Gotham Books (Penguin) in Fall 2014, debuted at #7 on the New York Times Bestseller List for Books about Health and would stay on it for three months.
·
Pre and Post operative care
Mütter personally knew how it felt to be a patient in a hospital due to his illnesses as a child, so patient care became one of his top priorities. He was known for being extra caring toward his patients. He spent an unusual (for his time) amount of time preparing his patients, both physically and mentally, for their upcoming surgeries. He also worked to establish post-operative beds for his patients so they weren't immediately sent him after undergoing physically traumatic surgeries.
·
Plastic Surgery
Mütter was essentially one of America's first plastic surgeons. He came up with a "flap" technique - taking healthy skin and grafting it to the impacted areas - for relieving burn victims and repairing other disfigurements.
·
Sterilizing Medical Tools
Mütter was also one of the first few doctors who held the belief that disease could be spread by using unclean hands and tools during surgery. For doctors at that time, cleanliness was seen as "uppity" and a blood-soaked coat and hands were matters of pride from a job well done, not a safety violation.
·
Anesthesia
Mütter was on of the few doctors who immediately supported the practice of using ether as an anesthetic. Many of his peers opposed the new "fad" and viewed it as dangerous.
·
Women's Health
Some strange medical techniques were used in women's medicine during Mütter's time: leeches inserted into the uterus, underwear filled with hay for menstruation and others