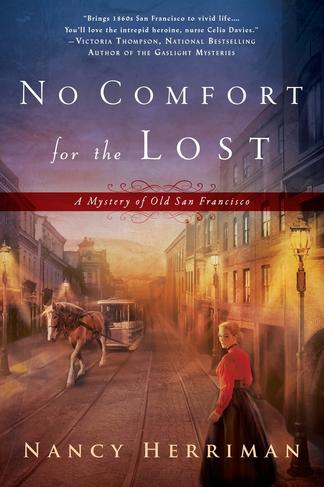 Idgie Says:
A nice escapism book that deals with a time in our country where women had little rights and freedom, and Chinese had even less. A mysterious Who-done-it with a lively and determined woman, a hardened detective with a hidden heart of gold and the slightest sprinkle of attraction and romance in the air....
Book Description:
In

NO

COMFORT

FOR THE

LOST

(NAL Trade Paperback Original;

August 4, 2015

; $15.00), an atmospheric historical mystery series debut, a courageous nurse and a war-scarred police detective in 1860's San Francisco champion the down-trodden and fight for justice.
After serving as a nurse in the Crimea, British-born Celia Davies left her privileged family for an impulsive marriage to a handsome Irishman. Patrick brought her to San Francisco's bustling shores but then disappeared and is now presumed dead. Determined to carry on, Celia partnered with her half-Chinese cousin Barbara and her opinionated housekeeper Addie to open a free medical clinic for women who have nowhere else to turn. But Celia's carefully constructed peace crumbles when one of her Chinese patients is found brutally murdered and Celia's hotheaded brother-in-law stands accused of the crime.
A veteran of America's civil war, detective Nicholas Greaves is intent on discovering the killer of the girl, whose ethnicity and gender render her as powerless in death as they did in life. Nicholas's efforts are complicated by Celia, who has a knack for walking into dangerous situations that may lead to answers – or get them both killed. For as their inquiries take them from Chinatown's squalid back alleys to the Barbary Coast's violent shipping docks to the city's gilded parlors, Celia and Nicholas begin to suspect that someone very close to them holds the key to a murderous conspiracy.
Click HERE to read an excerpt.