The Miss Julia series, which is very large - (18 books) is taking a side road for one book to tell the story of Etta Mae, one of the town troublemakers. Then back to Miss Julia as the star of the rest of the series.

This is a somewhat saccharine sweet series of books - light-hearted reads that entertain, but a few of the characters have remained too "cutesy" for my taste.
___________________________
ETTA MAE'S WORST BAD-LUCK DAY
Series: Miss Julia
Hardcover: 320 pages
Publisher: Viking Adult (August 19, 2014)
Fan favorite Etta Mae Wiggins takes center stage in the latest novel in the New York Times bestselling Miss Julia series
Bestselling author Ann B. Ross is back with another lively adventure set in Miss Julia's Abbotsville. For the first time, though, she writes from the perspective of another resident: the hardscrabble, heart-of-gold Etta Mae Wiggins. Etta Mae is frustrated with her trailer-park life and her no-good family, and she has big dreams for something better. Working as the home nurse for the elderly but wealthy Howard Connard, Senior, she finally sees her chance—with her sexy curves and infectious charm, Etta Mae is determined to become his wife. Unfortunately, Connard's scheming, money-hungry son and stuck-up daughter-in-law are equally determined to make sure she doesn't. To make matters worse, Etta Me's ex-husband Skip (her first ex, that is) has shown up with a winning lottery ticket in his hand and local thugs hot on his heels. Plus, her dreamy former flame, officer Bobby Lee, keeps popping up to remind her that she's not over him yet. In the middle of all this mayhem, Etta Mae has to get that marriage license—before it's too late!
A hilarious wild goose chase that takes us from the mansions of Abbotsville to the trailer park that Etta Mae calls home, this book is filled with familiar faces (including Miss Julia, who narrates the first chapter), features Ann Ross's signature wit and southern charm, and will appeal to fans of the beloved series and newcomers alike.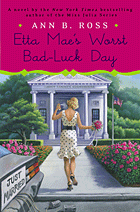 Etta Mae Wiggins has one thing on her mind—getting to the altar before her intended's son and daughter-in-law can stop the ceremony. Marrying Mr. Howard Connard, Senior, enfeebled though he is, looks to be the only way that Etta Mae can realize her dream of being somebody, getting ahead, and bettering herself. But scheming kinfolk aren't the only ones standing in her way. There's her first ex-husband who shows up with a winning lottery ticket and a pack of angry thugs on his heels. Then there are so-called friends, loose-living cops, and strait-laced Miss Julia Springer who would all stop the wedding in its tracks if they could.
And there's her old flame—the one that's still flickering—Officer Bobby Lee Moser, who keeps popping up all over town.
On what appears to be the worst bad-luck day of her life, Etta Mae does as she's always done. She stays the course, pushes forward, and keeps her eyes on the prize.
From single-wide trailer to in-town mansion, from hard-scrabble living to elegant ease, and from ill-repute to respectability, Etta Mae is determined to change her life. ETTA MAE'S WORST BAD-LUCK DAY is the hilarious story of Miss Julia's friend before she became a friend, and the moving story of one woman who, against the odds, tries so hard.