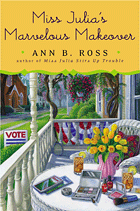 Coming in paperback March 31, 2015
Penguin Books
#15 in the series
*** in April the newest installment, Miss Julia Lays Down the Law, comes out.
___________________________________
Miss Julia is looking forward to an easy, restful summer, but before she can turn around good Sam announces that he is running for the state senate. Then a long-lost cousin announces that her granddaughter is on her way to Abbotsville so Julia can give her some polish and find her a husband.
On top of that, Sam has a gallbladder episode so that Julia has to take his place on the campaign trail, and the rude and unkempt Trixie proves more than Julia can handle. Hazel Marie takes Trixie in hand, but not before Trixie has set her cap for a mortuary science trainee by way of an online dating service. But that future mortician has his cap set, not only for Trixie but also for what Trixie might inherit. It takes Miss Julia, Etta Mae Wiggins, and Latisha to show him the error of his ways.