Miss Julia Stirs Up Trouble
(March 28, 2014, Penguin Paperback)
and
Miss Julia's Marvelous Makeover
(April 8, 2014, Viking Hardback)
Ann B. Ross
Idgie Says:
Miss Julia is a life unto herself. Her series continues to grow. The Dew has reviewed 4 of the books in her series over the last few years. They are books with real stories behind them, but they do tend toward the cloyingly cute at times. I'm not saying this as a negative, but if your sweet tooth in book reading has limits, this might not be the series for you. If you don't have a problem with it, this is a series set in a small town that follows the residents through their days and you slowly come to know everyone it the neighborhood.
I think it's fun that Ann threw in recipes for Miss Julia Stirs Up Trouble - I'm a sucker for a book with recipes integrated into the story.
_____________________________________________________________________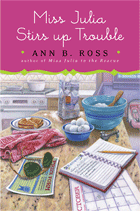 MISS JULIA STIRS UP TROUBLE

IN PAPERBACK MARCH 2014!!
Miss Julia serves up the perfect next course—along with dozens of recipes from Abbotsville's best cooks
With a crisp bite in the air, Miss Julia is enjoying a well-earned respite by her new fireplace. While the logs crackle, Miss Julia takes a rare moment to admire the colorful trees in her garden—and doesn't even worry about adding raking to the to-do list. Such quiet moments are rare in Miss Julia's life, and all too soon she discovers that, alas, autumn leaves aren't the only things falling. James, Hazel Marie's housekeeper, has had a nasty tumble down some stairs. How can Hazel Marie feed and take care of him—not to mention a husband and two babies—when she barely knows how to boil water?
Miss Julia jumps into help by convincing the ladies of Abbotsville to put on their aprons and give cooking lessons. Not only will they each share a favorite recipe with Hazel Marie, they will each demonstrate how to prepare their chosen dishes. Miss Julia soon has a bevy of eager chefs signed up, and she is relieved that Hazel Marie will have food on her table each evening to feed her growing family and, especially, the sometimes irascible Mr. J.D. Pickens, who seems to be spending too much time away from home.
With success so close she can taste it, Miss Julia must also contend with the arrival of Hazel Marie's uncle, Brother Vern, an itinerant preacher with one hand in the offering plate and the other in the pockets of the nearest sinner. As she keeps a sharp eye on him, Miss Julia also learns that James may be dabbling in a shady scam—and that Lloyd may be his accomplice.
An internet scam, a crabby patient on bedrest, an overwhelmed lady of the house with a family to feed, and an unexpected guest with questionable intentions? It's a recipe for trouble. And as usual, Miss Julia cooks up a plan—and serves up a delight.
__________________________________________________________________________
MISS JULIA'S MARVELOUS MAKEOVER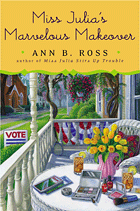 NEW for 2014!!

— MISS JULIA'S MARVELOUS MAKEOVER
Miss Julia is looking forward to an easy, restful summer, but before she can turn around good Sam announces that he is running for the state senate. Then a long-lost cousin announces that her granddaughter is on her way to Abbotsville so Julia can give her some polish and find her a husband.
On top of that, Sam has a gallbladder episode so that Julia has to take his place on the campaign trail, and the rude and unkempt Trixie proves more than Julia can handle. Hazel Marie takes Trixie in hand, but not before Trixie has set her cap for a mortuary science trainee by way of an online dating service. But that future mortician has his cap set, not only for Trixie but also for what Trixie might inherit. It takes Miss Julia, Etta Mae Wiggins, and Latisha to show him the error of his ways.