Idgie Says:
I didn't have it in me to read this story, inspirational as it. As a mother with three teens, I wasn't ready to touch this. But if you're stronger than I am, you may really get something from this book. Chock full of photos of Ben and his family - what a beautiful boy he was, inside and out.
____________________________________________________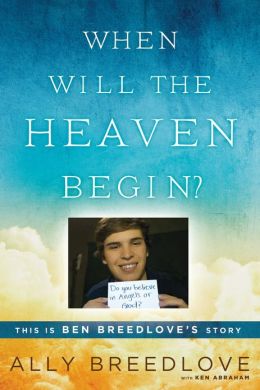 When Will The Heaven Begin
This is Ben Breedlove's Story
Told by Ally Breedlove and Ken Abraham
Publisher NAL, October 29, 2013
Do you believe in Angels or God? I do.
With those two sentences, Ben Breedlove touched the lives of 12 million people around the world. In the two-part video on YouTube entitled "This is My Story (

part 1

and

part 2

)," Ben used note cards to movingly tell the story of living with a life-threatening heart condition called hypertrophic cardiomyopathy (HCM), and the four times he "cheated death." Now for the first time ever, Ben's oldest sister Ally Breedlove is here to share his story.
Just seven days later, after uploading his video at the age of eighteen, Ben suffered cardiac arrest and passed away on Christmas Day 2011. Upon his passing, his family and close friends discovered the gift that Ben left behind, the moving and intimate videos that confirmed Ben's belief in
heaven
. They began to read the thousands of heartfelt comments left by viewers from around the globe.
The video quickly went viral, and Ben's hopeful message of positivity, faith, and peace inspired millions of people. The incredible story was picked up by media outlets around the world, including Good Morning America, The Early Show, MTV News, People, and The Huffington Post. To date, "This Is My Story" has received more than 12 million views and Ben's YouTube channels have 100,000 dedicated subscribers.
In WHEN
WILL
THE
HEAVEN
BEGIN
? This is Ben Breedlove's Story
(New American Library; October 29, 2013; simultaneous hardcover and trade paperback publication; HC: $24.95/TR: $15), Ben's older sister Ally Breedlove shares memories of growing up with Ben, whose illness never kept him from being "just a regular kid," and recalls the close relationship enjoyed by the entire Breedlove family. Ben's parents, Deanne and Shawn, allowed him the freedom to live his life fully, encouraging his love of wakeboarding and wake surfing and supporting the video production and filmmaking he started as a young boy.
WHEN
WILL
THE
HEAVEN
BEGIN
?
is the remarkable and uplifting story of Ben Breedlove's short life—a loving testament to the power of faith and family that only Ben's sister could tell. It is a beautiful family memoir, a touching tribute to a courageous young man, and sure to be a source of comfort for readers searching to know what follows our lives on Earth.
Co-written with Ken Abraham—who has collaborated on several New York Times bestsellers, including Lisa Beamer's Let's Roll and Joel Osteen's Your Best Life Now—When
Will
the
Heaven
Begin
?
is a touching and inspirational story about one young man's short but full life that
will
appeal to readers of Proof of
Heaven
and
Heaven
is For Real
.
Inspiring and poignant, WHEN
WILL
THE
HEAVEN
BEGIN
?
is ultimately about living each day to the fullest, and keeping faith and hope alive.